This winter, VFP highlights the artistic creations of Charlie Chaplin's granddaughter: Laura Chaplin.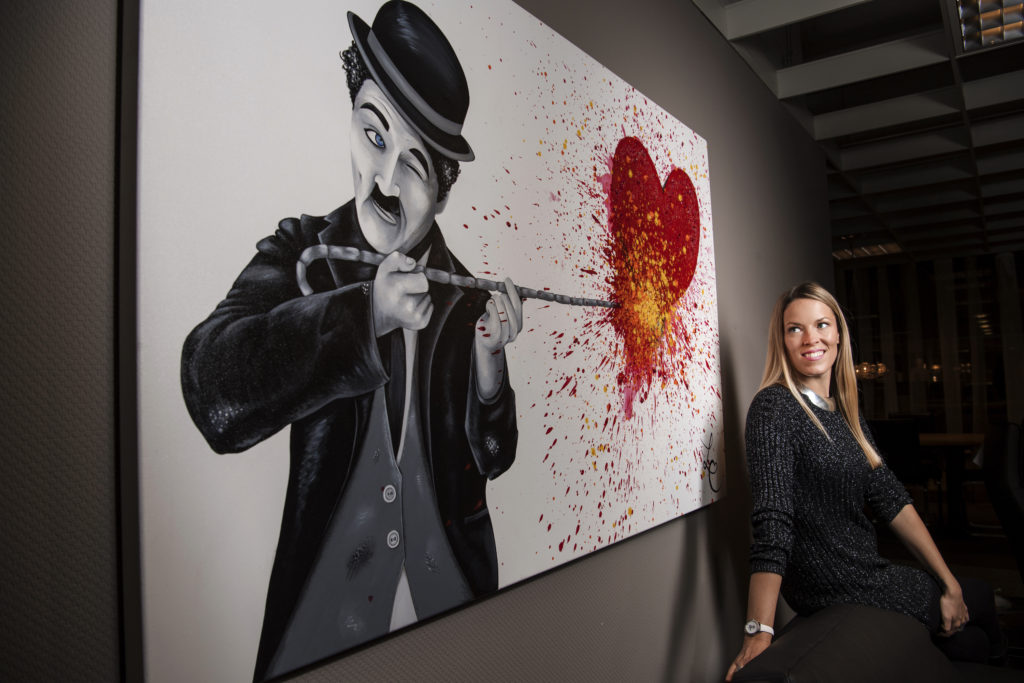 Laura was born in 1987 in Vevey, Switzerland and grew up in the Manoir de Ban – Charlie Chaplin's last home which is now a museum in his memory. Laura has gradually developed a very personal painting style with strong messages of hope, love and laughter. She paints successfully, exhibits and sells her artworks worldwide. She is also actively involved in various charitable foundations that are close to her heart.
Her mission: To make the world smile!
In constant search of harmony, happiness and love, Laura is also passionate about horses and participates to jumping competitions, including the famous Jumping International de Verbier.
Discover her world with us in this interview for VFP.
What made you decide to become an artist?
I have always loved drawing since I was a child. At the Manoir, I was already having fun making drawings and selling them to my parents' guests. Then I had the chance to do a first exhibition in Montreux in 2011 and it worked so well that I went for it.
What has been the impact of art and nature in your life?
As far as the artistic side is concerned, I think the Chaplin gene is undeniable. It is present in every member of the family. I have always been close to nature and animals. It has this real and free side that makes me feel good. The fact that I am lucky enough to be out there every day, whether on horseback or with my dogs, inspires me.
How would you define your style and what are your sources of inspirations?
I would say between figurative and pop-art as well as a little surrealism depending on the style of the moment. My inspirations are my three main themes which are my grandfather, Charlie Chaplin, horses and female figures.
What type of painting do you do?
I mainly use acrylics. Concerning the technique, I paint either with my fingers or with brushes.
What is your vision of art in such complicated times?
The artistic world has unfortunately come to an abrupt halt due to the pandemic and this is a pity because art is a unique opportunity to escape, to dream, and to feel good.
Your art brings out delicacy and femininity, while using contrasts and strong messages. What is your artistic process?
It's quite varied, it can range from a shape I see while riding a horse that reminds me of one of my three themes of inspiration. I must admit that I am lucky enough to never run out of ideas. External phenomena, for example what we are experiencing in the moment, is also a source of reflection.
What is your connection with Verbier and VFP real estate agency?
As a horseback rider, Verbier is first and foremost a horse show. It was there that I met my significant partner and the whole VFP team, which I was also lucky enough to meet again thanks to their support given to the Moi pour Toit Foundation, of which I am the patron.
Tell us about your history with Moi pour Toit?
My relationship with Moi pour toit comes from my encounter with its founder, Christian Michellod, a man who touched my heart by the kindness of his own. Then I went to Colombia, to meet these children, with whom I had the opportunity to paint. Despite the misery, I saw in each child a smile, a hope, a desire to live… I could not help but commit myself to this beautiful cause. It accompanies me every day and makes me put many things into perspective.
Any future projects in the art world?
At the moment, it's difficult to project oneself. At the beginning of the pandemic, I was supposed to go and paint in the footsteps of my grandfather in the most beautiful hotels in the world, starting with Cambodia and Thailand… This project is on hold today. I have a few exhibitions planned for next year if all goes well. But let's focus on the exhibition in Verbier with VFP Real Estate.
What message do you want to convey? And where are you taking us with this exhibition at VFP, in Verbier – is there a link between the place, nature, and your imagination?
Of course, Verbier, its nature, its snow, its summits, its warm atmosphere exudes what I love. I hope that this exhibition will remind everyone of the importance of taking the time to escape, to look around, to take a moment to rest, to smile at others, to have a look or a kind gesture, simple and free elements of everyday life, often forgotten, but which do so much good.