When we walk into the Médran Sports SA shop, we feel immediately at home. André Filliez, known as Dédé, his daughter Caroline, his son Jean-François, known as J-F, and his wife Maggie welcome you with open arms into a warm atmosphere. His family team is joined by Clémence, the sales assistant and Simon, the second mechanic both of whom bring a real energy to the place.

The shop that is open throughout the year is a supporter of a 4 season Verbier. In winter it is delighted to serve it's loyal clientele, selling and renting ski equipment for both piste and back country skiing, and kitting them out in technical clothing and accessories. In the summer, sales and rentals of all kinds of bikes have really taken off (road bike, mountain bike, e-mountain bike, Enduro and bike accessories).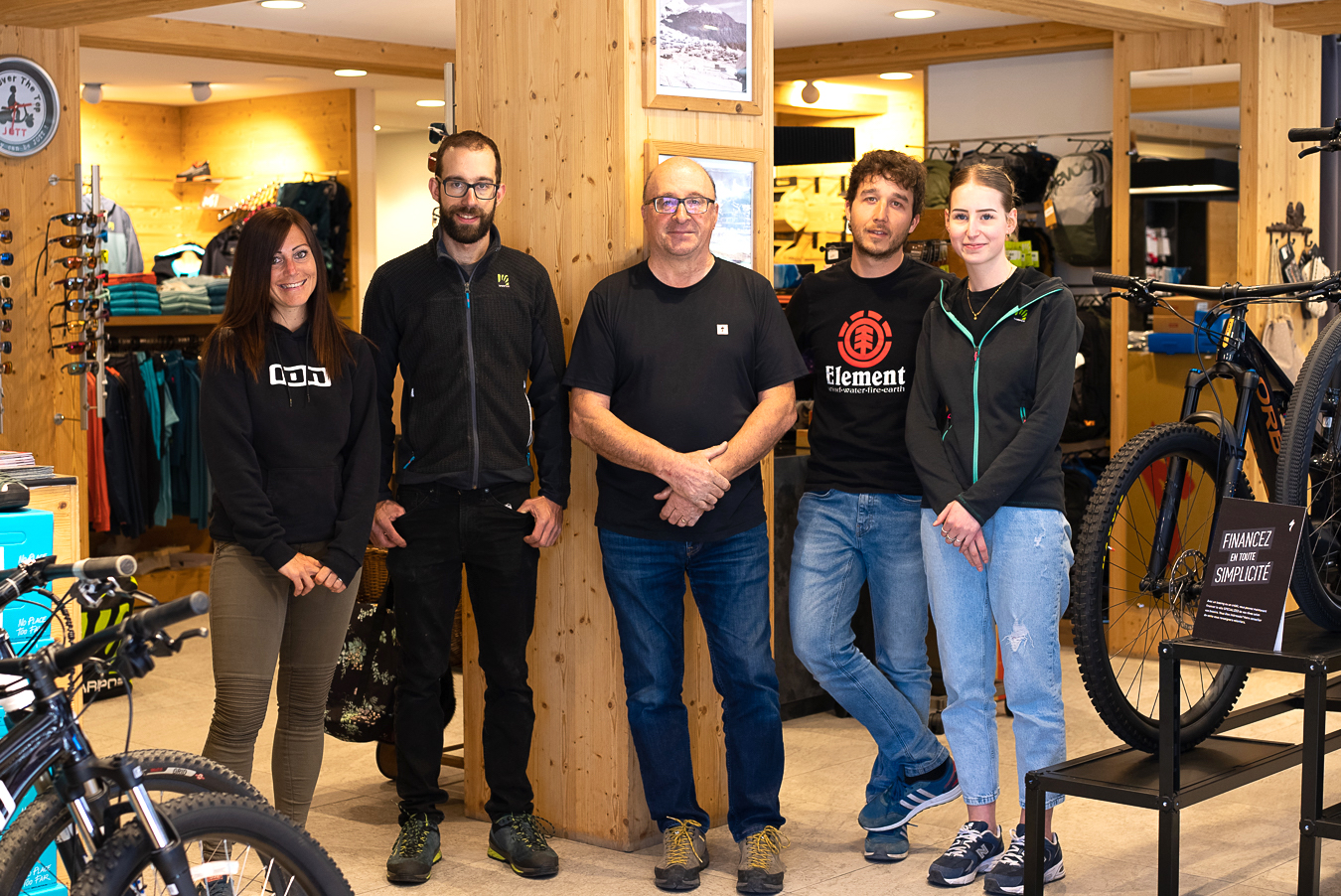 What major developments have you seen in the sport sector in Verbier ?
André : In 2001, when we took over the business with Mireille Deléglise-Sarbach (2nd generation of the family business), we made an assessment that we couldn't make a living from skiing alone. At the time, we were only working 5 months out of 12. Because of snowfall conditions, we'd been forced to identify a solution to sustain the business : this was being open throughout the year and promoting cycling to attract clients during the other seasons. We were the first shop to have E-bikes in 2008. A few years later J-F, with his bike-mechanic training, joined the company and the combination of these elements has paid off."
Now open throughout the year, what are the best periods for you ?
Caroline : "Since COVID, things have changed ! A large number of our clients who used to come only in the winter decided to settle in Verbier so they could make the most of its nature and the calm atmosphere. With activities being limited, cycling became a real El Dorado, allowing them to get out in the open air. For the last 2 or 3 years, the success of cycling has overtaken that of skiing and the biggest season now begins in May and finishes in October."
What kind of people rent the bikes ?
Caroline : "All kinds. We serve as many guides or bike leaders with their very athletic clients who are looking for manual bikes for single trails, as clients attending the Verbier-Festival, local people and tourists who want to try it out or have some fun. The user-friendly nature of the activity attracts numerous groups spanning all generations. Everybody can keep up due to the different power levels and that's what makes the activity so fun."
J-F : "We've seen that there are two different ways of approaching the sport. The first is the recreational approach, a meander and pleasant time in the mountains. The second is performance focused. The same bike offers both possibilities with different levels of assistance : turbo, intermediate or economy."
What do you recommend for a perfect summer's day circuit around Verbier ?
J-F : "The easiest one, start off from our shop, join the Route du Soleil, go up by les Mayens de Sarreyer and finish at the Dahu restuarant, where charge points have been installed. This route has 1100 metres of elevation. It's also possible to do the circuit via Savoleyres."
Dédé : "Then, for a longer meander, leave from our shop, join the Route du Soleil, then Lourtier and go up towards the bottom of the Valley. From la Barmasse, it carries on up to the Brunet Hut. A magnificent setting awaits our clients. We've also set up charging points there too. For the athletic clients, it's also possible to get up to the Chanrion Hut.
What is sport to you ?
Caroline : "We've noticed the fact that it's our passion, makes it so for our client as well. We do all the activities that are shop caters for ourselves. We believe that to be good salespeople, it's important to do the sport oneself. The advice that we give, we've put it to the test already."
How do you see Verbier in the next 5 to 10 years ?
Caroline : "We'd like to attract clients who love the mountains and want to come back throughout the year. We've developed real friendships with our clients. We would be delighted if the Verbier stakeholders try to play their part throughout the four seasons so that the resort stays alive all year long.
Thanks to our Bagnes friends, we're able to keep our shop open throughout the year and we thank them for their loyalty. We love working with them and it's for them that we believe it's important to be there throughout the year.
Over the next few years, we'd like to attract more families to Verbier. By taking part in the resort's activities, future generations will come back to Verbier and be our clients."
And finally, what's your link that unites you to VFP ?
André : "Patrick and I have been friends for a long time. For business to have longevity, it's essential to have a network with which to work.
Caroline : "VFP were my first employers, a kind of family."
J-F : "We have the same visions as VFP. Fundamentally we want to share our passion for our region with our visitors so that they have a great time and want to come back again."